The State Of Inequality In India Report: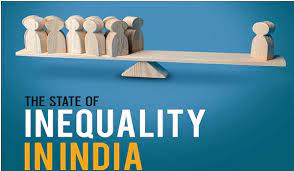 The 'State of Inequality in India' Report was released by the Economic Advisory Council to the Prime Minister (EAC-PM).
Highlights of the Report:
The share of the top 1% accounts for 6-7% of the total incomes earned while the top 10% accounts for one-third of all incomes earned.
In 2019-20, among different employment categories, the highest percentage was self-employed workers followed by regular salaried workers and casual workers.
The country's unemployment rate is 4.8% (2019-20), and the worker population ratio is 46.8%.
In the area of health infrastructure, there has been a considerable improvement in increasing the infrastructural capacity with a targeted focus on rural areas.