Train Control And Supervision System : Delhi Metro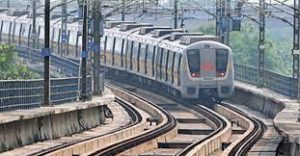 The Delhi Metro Rail Corporation (DMRC) recently launched the first ever indigenously developed Train Control and Supervision System.
i-ATS system is India's first indigenously developed Train Control and Supervision System.
It is a computer-based system that will manage train operations including basic functioning such as running and halting.
The i-ATS has been jointly developed by the DMRC and Bharat Electronics Limited (BEL) under the Government of India's 'Make in India' and 'AatmaNirbhar Bharat' initiatives for Metro Rail Transit Systems.
It will reduce the metro's dependence on foreign vendors for metro operations.
The i-ATS technology has been developed to be flexible enough to work with different signaling vendors' systems with suitable changes.
The development of i-ATS is a huge step forward in CBTC (Communication Based Train Control) based signaling system for the metro railways since the ATS is an essential component of the CBTC signaling system.
With the launch of i-ATS, India became the sixth country with its own ATS products after France, Germany, Japan, Canada, and China.