Tribute To Veer Savarkar On His Death Anniversary: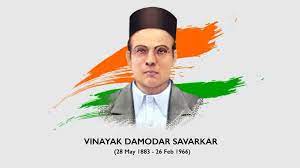 Home Minister recently paid his tributes to Veer Savarkar on his death anniversary(26th Feb)
Veer Savarkar was born in 1883 near Nasik in Maharashtra.
He was the first to acknowledge the mutiny of 1857 as the first struggle for Independence and wrote the book 'The History of the War of Indian Independence'.
He was a passionate promoter of Hindutva since childhood.
He was sentenced to 50 years in the cellular jail of Andamans, also known as Kala Pani, for revolting against the Morley-Minto reforms (Indian Councils Act 1909) in 1911.
After his release from jail, he worked on the abolishment of untouchability in Ratnagiri.
Serving as the president of the Hindu Mahasabha political party, he opposed the Quit India movement in 1942.
He founded the organizations Abhinav Bharat Society and Free India Society.
He was a critic of the Indian National Congress and its acceptance of India's partition.
He was also a critic of Mahatma Gandhi and called him a 'hypocrite'.
In 1948, he was charged as a co-conspirator in the assassination of Mahatma Gandhi.