Two-Finger Test: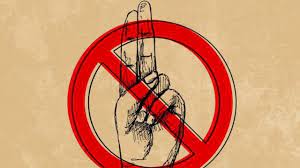 The Supreme Court recently said that those conducting the 'two-finger test' on alleged rape victims will be held guilty of misconduct.
A woman who has been sexually assaulted undergoes a medical examination for ascertaining her health and medical needs, collection of evidence, etc.
The two-finger test, carried out by a medical practitioner, involves the examination of her vagina to check if she is habituated to sexual intercourse.
The practice is unscientific and does not provide any definite information. Moreover, such 'information' has no bearing on an allegation of rape.
A handbook released by the World Health Organization (WHO) on dealing with sexual assault victims says, "There is no place for virginity (or 'two-finger') testing; it has no scientific validity".
In 2004 SC observed that whether a woman is 'habituated to sexual intercourse' or 'habitual to sexual intercourse' is irrelevant for the purposes of determining whether the ingredients of Section 375 (rape) of the IPC are present in a particular case.
In 2013, the SC court had held that the two-finger test violates a woman's right to privacy and asked the government to provide better medical procedures to confirm sexual assault.