Economic Recovery: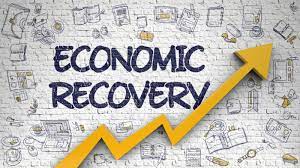 The National Statistical Office data has revealed that the Indian economy grew at a record pace of 20.1% in April-June 2021, as compared to the corresponding period last year.
Last year, Gross domestic product (GDP) contracted 24.4% in the same period, when the national lockdown due to the Covid-19 pandemic had nearly halted all economic activities.
About Economic Recovery:
The first quarter's high growth rate, has come despite a brutal second wave of the pandemic which peaked in April-May 2021.
The sharp increases were largely due to the low base (-24.4%) of the first quarter of 2020-21.
This growth reaffirms the government's prediction of an imminent V-shaped recovery made last year.
However, despite phenomenal economic recovery, the GDP in the first quarter is still 9.2% lower than the GDP in the same period during the pre-Covid year 2019-20.
Amongst sectors, manufacturing and construction imparted a significant push to the economy in April-June, growing 49.63% and 68.3% respectively, over April-June 2020.
However, the services sector continued to lag.
Sectors including 'agriculture, forestry and fishing' and 'electricity, gas, water supply and other utility services' are above the levels of the pre-Covid year of 2019-20.
V-shaped Economic Recovery:
A V-shaped recovery is characterized by a quick and sustained recovery in measures of economic performance after a sharp economic decline.
Such recoveries are generally spurred by a significant shift in economic activity caused by rapid readjustment of consumer demand and business investment spending.