GSLV-F10 Launch And EOS-03 Satellite: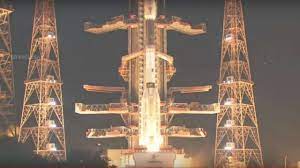 The launch of earth observation satellite EOS-03 onboard GSLV-F10 was unsuccessful recently because of an anomaly in the rocket's cryogenic upper stage.
GSLV-F10 was ISRO's eighth flight with indigenous cryo, 14th GSLV flight and 79th launch from Sriharikota.
EOS-3 was the first state-of-art agile Earth Observation Satellite which would have been placed in a geo-synchronous orbit around the Earth.
It was expected to provide near real-time imaging, which could be used for quick monitoring of natural disasters, episodic events and any short-term events.
The mission life of the satellite was 10 years.
The GSLV is geosynchronous satellite launch vehicle.
The GSLV Mark II is the largest launch vehicle built by India.
As its name suggests, it can launch satellites that will travel in orbits that are synchronous with the Earth's orbit.
These satellites can weigh up to 2,500 kg and are first launched into transfer orbits that have a distance from Earth of 170 km at closest approach and about 35,975 km at furthest approach which is close to the height of the geosynchronous orbit.