World's Highest Motorable Road :Umling La pass In Eastern Ladakh: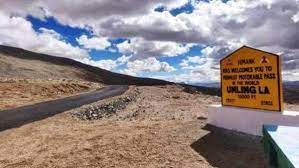 The Border Roads Organisation (BRO) has constructed and completed black topping the world's highest motorable road at Umling La pass in Eastern Ladakh, located at an altitude of 19,300 ft.
By constructing this road, BRO has created a record in high-altitude road construction.
It bettered the previous record of a road in Bolivia connecting to its volcano Uturuncu at 18,953 ft.
The strategic road built under 'Project Himank' passes through the Umling La Top and connects Chisumle and Demchok villages.
It will enhance the socio-economic condition and promote tourism in Ladakh.
The road is close to the Line of Actual Control (LAC) and will allow quick movement of troops and equipment.
The road has been constructed at an altitude higher than the Mt Everest Base Camps as the South Base Camp in Nepal is at an altitude of 17,598 ft, while North Base Camp in Tibet is at 16,900 ft.
The road has been constructed much above the altitude of Siachen Glacier which is at 17,700 ft.
The Khardung La Pass in Leh is at an altitude of 17,582 ft.
Project Himank:
Project Himank, is a project of the BRO being implemented in the Ladakh region of Jammu & Kashmir.
This project started in 1985.
Under this project, BRO is responsible for the construction and maintenance of roads and related infrastructure including the world's highest
motorable roads.