Ela Ramesh Bhatt : Gandhian Activist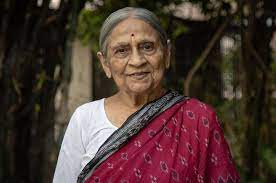 Ela Ramesh Bhatt, popularly known as Elaben, a noted Gandhian, leading women's empowerment activist, and renowned founder of the Self-Employed Women's Association (SEWA) passed away recently.
Born in Ahmedabad in 1933, she studied law and joined the legal cell of the Majur Mahajan Sangh or the Textile Labour Association (TLA).
Bhatt founded SEWA in 1972, which has since worked at empowering women in various ways.
She was felicitated with the Padma Shri, the Padma Bhushan, the Ramon Magsaysay Award, the Indira Gandhi Peace Prize and many other accolades.
She was also a Member of the Rajya Sabha and of the Planning Commission of India in the 1980s.
She served as a World Bank advisor and addressed the United Nations General Assembly.
She propounded the idea of 'hundred-mile communities' in her book Anubandh: Building Hundred-Mile Communities published in 2015.