India abstained On A Vote At The UN Human Rights Council: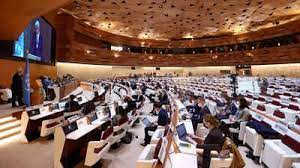 India abstained on a vote at the UN Human Rights Council in Geneva as the Council decided to set up an international commission of enquiry into Russia's actions in Ukraine.
The resolution "strongly condemned" aggression by Russia in Ukraine. Russian troops recently captured Zaporizhzhia Nuclear power plant in Ukraine.
India was among 13 countries of the 47-member council that abstained from the resolution.
Thirty-two countries voted for the resolution that asked the HRC president to appoint three human rights experts for a year. Only Russia and Eritrea voted against the resolution.
The Human Rights Council is an inter-governmental body within the United Nations system.
It meets at the UN Office at Geneva.
It was founded in 2006. It replaced the former United Nations Commission on Human Rights (UNCHR) that had been strongly criticised for allowing countries with poor human rights records to be members.
The Council is made of 47 Member States, which are elected by the UN General Assembly. The Council's Membership is based on equitable geographical distribution.