UN Peacekeepers: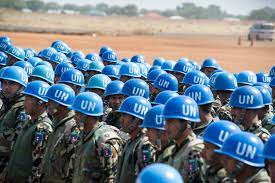 Canada and allies are planning to work togather to support among United Nations General Assembly members, including China, for a peacekeeping mission in Ukraine.
Countries opposing Russia's invasion should seek a recommendation from the General Assembly for a peacekeeping mission with the goal of keeping humanitarian corridors open.
While decisions about establishing, maintaining or expanding a peacekeeping operation are taken by the Security Council, the financing of UN Peacekeeping operations is the collective responsibility of all UN Member States.
Every Member State is legally obligated to pay their respective share towards peacekeeping. This is in accordance with the provisions of Article 17 of the Charter of the United Nations.
The top 5 providers of assessed contributions to United Nations Peacekeeping operations for 2020-2021 are:

United States (27.89%).
China (15.21%).
Japan (8.56%).
Germany (6.09%).
United Kingdom (5.79%).

United Nations Peacekeeping is a joint effort between the Department of Peace Operations and the Department of Operational Support.
Every peacekeeping mission is authorized by the Security Council.
UN peacekeepers (often referred to as Blue Berets or Blue Helmets because of their light blue berets or helmets) can include soldiers, police officers, and civilian personnel.
Peacekeeping forces are contributed by member states on a voluntary basis.
Civilian staff of peace operations are international civil servants, recruited and deployed by the UN Secretariat.