Unique Disability ID Scheme: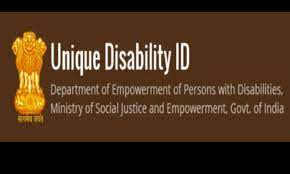 The Ministry of Social Justice and Empowerment has asked states to speed up implementation of the Unique Disability ID (UDID) scheme for Persons With Disabilities (PwD) in the 75 districts.
The Rural Development Ministry has selected the UDID programme as a part of its 90-day campaign in districts "selected on the basis of unsung heroes of India's freedom struggle" under Azadi ka Amrit Mahotsav.
The campaign aimed for 100% coverage of 17 Central schemes in the 75 districts.
The Unique ID for Persons with Disabilities project is being implemented with a view of creating a National Database for PwDs, and to issue a Unique Disability Identity Card to each person with disabilities.
The objective is to enable the PwDs to obtain the new UDID card / Disability Certificate to avail schemes and benefits provided by the Government through its various Ministries and their Departments.