Ethanol-Based 'Flex Engine: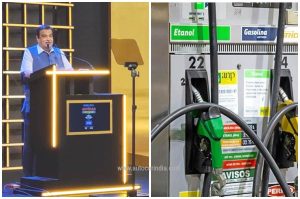 India has decided to allow ethanol-based 'flex engines', which power vehicles using local farm produce and not fossil fuels, and will be rolling out a scheme on the same in the next three months, Union Minister Nitin Gadkari said.
Gadkari said other countries of the world like Brazil, the US and Canada have flex engines which are powered by farm produce and exhorted automakers like BMW, Mercedes and Toyota to develop vehicles running on the alternative fuel.
A switch to locally-produced ethanol will be helpful for a country like India which relies majorly on crude oil imports for powering the transport sector. It will also be less polluting and cost-saving.
Flexible fuel vehicles (FFVs) have an internal combustion engine and are capable of operating on gasoline and any blend of gasoline and ethanol up to 83%.
FFVs have one fuel system, and most components are the same as those found in a conventional gasoline-only car.
Some special ethanol-compatible components are required to compensate for the different chemical properties and energy content in ethanol, such as modifications to the fuel pump and fuel injection system.
The engine control module (ECM) is also calibrated to accommodate the higher oxygen content of ethanol.