G7 Trade Ministers Meeting: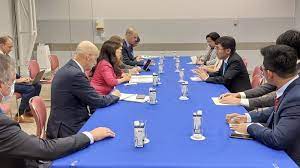 The Union Minister of Commerce and Industry participated in the G7 (Group of Seven) Trade Ministers Meeting in Osaka, Japan.
Highlights of the Meeting:
India made an important intervention on the topic of Enhancing Supply Chain Resilience and gave several suggestions on the issue.
India also mentioned that the Covid 19 pandemic and the geo-political events highlighted the vulnerabilities of the existing supply chains leading to increase in commodity prices and global Inflation.
India urged the governments to collaborate on a regulatory framework to ease the movement of supply chains and facilitate cross border trade.
India also referenced the Generic Framework for Mapping of Global Value Chains mentioned in the New Delhi Declaration of the G20 to help member countries identify risks and enhance resilience in trade.
India encouraged Public-Private partnership, investment in critical infrastructure and the need for innovation and digitalisation of the supply chains.
India and the UK reviewed the progress of negotiations of the proposed Free Trade Agreement (FTA), talks for which have reached the final stage.
These negotiations aim to address differences on issues such as Rules of Origin and the services sector.
India also discussed with ministers from the European Free Trade Association (EFTA) member countries – Switzerland, Norway, Iceland, and Liechtenstein – to discuss the progress of the Trade and Economic Partnership Agreement (TEPA).