US Imposes New Sanctions On China: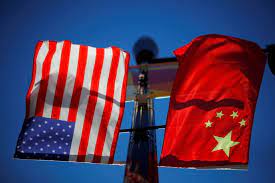 The U.S is imposing new sanctions on several Chinese biotech and surveillance companies and government entities over human rights abuses of Uyghur Muslims in the Xinjiang region of China.
Xinjiang is technically an autonomous region within China — its largest region, rich in minerals, and sharing borders with countries like India, Russia, Mangolia and Afghanistan.
The US Commerce Department is targeting China's Academy of Military Medical Sciences and its 11 research institutes that focus on using biotechnology to support the Chinese military.
The US Treasury Department is also set to issue penalties against several Chinese entities.
The move will bar American companies from selling components to the entities without a license.
The US administration supported bipartisan legislation that bans imports into the U.S. from Xinjiang unless companies can demonstrate the goods were not produced by forced labour.
Earlier, in 2020 the United States House of Representatives approved a legislation calling for sanctions on Chinese officials responsible for oppression of Uighur Muslims.
The bill calls for sanctions against those responsible for repression of Uyghurs and other Muslim groups in China's Xinjiang province.
The bill also calls on USA companies or individuals operating in the Xinjiang region to take steps to ensure their products do not include parts using forced labor of Uyghurs.
Recently, 43 countries have signed a declaration, calling on China to ensure full respect for the rule of law for the Muslim Uighur community in Xinjiang.
The declaration was signed by the US and other countries accusing China of human rights violations and ethnic cleansing against the Uighur Muslims.
Similar declarations in 2019 and 2020 condemned China for its policies in Xinjiang, where United States has accused Beijing of carrying out genocide.
It also called for access to Xinjiang for independent observers, including the UN High Commissioner for Human Rights.
It noted the existence of a large network of 'political re-education' camps in Xinjiang Uighur Autonomous Region, where over a million people have been arbitrarily detained.
However, China claims its camps to be 'educational centres' where the Uighurs are being cured of "extremist thoughts" and radicalisation, and learning vocational skills.
China claims that Uighur groups want to establish an independent state and, because of the Uyghurs' cultural ties to their neighbours, leaders fear that elements in places like Pakistan may back a separatist movement in Xinjiang.
China has denied any abuses and says the steps it has taken are necessary to combat terrorism and a separatist movement.