Utkal Dibas: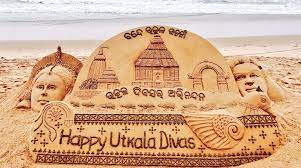 The Prime Minister of India greeted the people on Utkal Dibasa.
The modern state of Odisha was established on 1 April 1936 at Kanika Palace, Cuttack, as a province in India, and consists predominantly of Odia speakers.1 April is therefore celebrated as Utkal Divas (Odisha Day).
The British had occupied the Northern Circars, comprising the southern coast of Odisha, as a result of the Second Carnatic War by 1760, and incorporated them into the Madras Presidency gradually.
In 1803, the British ousted the Marathas from the Puri-Cuttack region of Odisha during the Second Anglo-Maratha War. The northern and western districts of Odisha were incorporated into the Bengal Presidency.
In 1903, the Utkal Sammilani organisation was founded to demand the unification of Odia-speaking regions into one state.
On 1 April 1912, the Bihar and Orissa Province was formed and on 1 April 1936, Bihar and Orissa were split into separate provinces.