Shaheed Diwas: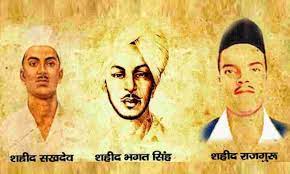 Shaheed Diwas or Martyr's Day is celebrated across India on March 23
It is celebrated to remember the sacrifices made by three freedom fighters – Bhagat Singh, Sukhdev Thapar, and Shivaram Rajguru – who died while leading India's fight for freedom from British rule.
The three freedom fighters were hanged by the British Government in 1931.
The trio was found guilty of the murder of deputy police superintendent JP Saunders in 1928, to avenge the death of Lala Lajpat Rai.
Bhagat Singh was 23, Rajguru was 22 and Sukhdev was 23 when they were hanged to death at Lahore Central Jail.