Van Dhan Programme: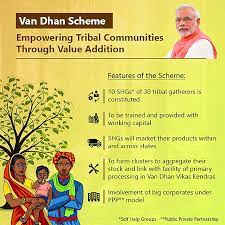 The Ministry of Tribal Affairs has planned to set up 200 'Van Dhan' producer companies in all the 27 states in the next five years with priority to the Aspirational Districts under the Van Dhan programme.
Aspirational Districts are those districts in India that are affected by poor socio-economic indicators. The Transformation of Aspirational Districts' Programme (TADP) is being anchored by the NITI Aayog at the central level.
Van Dhan Programme:
It is a market-linked tribal entrepreneurship development program for forming clusters of tribal Self Help Groups (SHGs) and strengthening them into Tribal Producer Companies.
The initiative targets livelihood generation for tribals by harnessing the wealth of forest i.e. Van Dhan.
Launch: The scheme was launched in 2018 as Pradhan Manti Van Dhan Yojana (PMVDY).
Implementation: It is being implemented by the Tribal Cooperative Marketing Development Federation of India Limited (TRIFED).
Aims:

To tap into traditional knowledge & skill sets of tribals by adding technology & IT to upgrade it at each stage and to convert the tribal wisdom into a viable economic activity.
To promote and leverage the collective strength of tribals to achieve a viable scale to take on the predatory market forces in the areas where these are still prevalent.
Proposition is to set-up tribal community-owned Minor Forest Produce (MFP)-centric multi-purpose Van Dhan Vikas Kendras in predominantly tribal districts.