Mandarin Duck: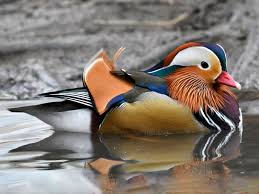 Floating in the Maguri-Motapung beel (or wetland) in Assam's Tinsukia district for over a week is the spectacular and rare Mandarin duck. First spotted on February 8 by Madhab Gogoi, the duck has since become the star of the wetland.
Considered the most beautiful duck in the world, the Mandarin duck, or the (Aix galericulata) was first identified by Swedish botanist, physician, and zoologist Carl Linnaeus in 1758.
It is a "small-exotic looking bird" native to East Asia.
The migratory duck breeds in Russia, Korea, Japan, and the north-eastern parts of China, explained Gogoi. It now has established populations in Western Europe and America too.
The duck, however, rarely visits India as it does not fall in its usual migratory route.
Its IUCN status is Least Concern.
While the duck is not a globally threatened species, spotting one is always considered significant because they only make "rare appearances."
The Maguri Motapung wetland — an Important Bird Area as declared by the Bombay Natural History Society — is located close to the Dibru Saikhowa National Park in Upper Assam.
In May 2020, the beel was adversely affected by a blowout and fire at an Oil India Limited-owned gas well.