Veer Gatha Project 3.0: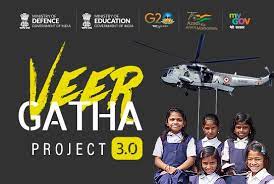 The 3rd edition of the Veer Gatha Project saw active participation from over 1.36 crore school students across all 36 States and Union Territories in India.
The project, initiated under the Gallantry Awards Portal (GAP) in 2021, aims to highlight acts of bravery by Armed Forces personnel and instil values of patriotism and civic consciousness among students.
Students submitted poems, paintings, essays, videos, and more to honour these brave individuals.
Under Veer Gatha Project 3.0, various activities were conducted at the school level, with schools uploading their best entries on the MyGov portal.
100 winners (Super 100) will be chosen at the National Level and jointly honoured by the Ministry of Education and Ministry of Defence, each receiving a cash prize of Rs 10,000.
Winners at the District (4 winners) and State/UT (8 winners) levels will also be recognized and felicitated.