Bekal Fort : Kerala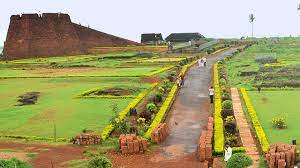 Kerala Tourism Development Corporation's (KTDC) plan to develop a caravan park and camp shelter at Bekal Fort, situated in the Kasargod district of Kerala.
Bekal Fort, dating back to 1650 AD and constructed by Shivappa Nayaka of the Keladi dynasty, is known as the largest fort in Kerala.
Throughout its history, the fort has witnessed the rise and fall of various dynasties and eventually came under the control of the Kingdom of Mysore.
Bekal Fort's unique structure, seemingly emerging from the sea, features a water tank, an observation tower attributed to Tipu Sultan, a zigzag entrance, defensive trenches, and strategically placed holes in its outer walls for naval defence.
Its solid construction is reminiscent of forts like Thalassery Fort and St. Angelo Fort in Kannur, both built by the Dutch.