Project AMBER: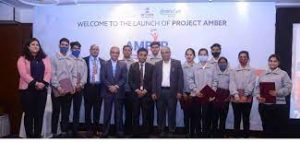 The Ministry of Skill Development and Entrepreneurship (MSDE), in collaboration with Generation India Foundation (GIF) and Amazon Web Services India Private Limited (AWS India), is providing 'cloud' skills training to 1,500 under project AMBER.
The Accelerated Mission for Better Employment and Retention (AMBER) project is a joint initiative of the National Skill Development Corporation (NSDC) – under the aegis of the Ministry of Skill Development and Entrepreneurship (MSDE) – and GIF to create the necessary avenues.
The initiative has been undertaken under the SANKALP programme of MSDE with a focus on women to improve gender diversification in the tech industry and underprivileged groups.
This project aims to train 30,000 youth, 50% of whom will be women.
As part of this collaboration, the learners take part in AWS (re/Start), a workforce development program for unemployed and underemployed individuals.
It covers fundamental AWS cloud skills as well as practical career tips, including resume writing and interview preparation.
The program also covers the cost for learners to take the AWS Cloud Practitioner Certification exam, an industry-recognized credential that validates their cloud skills and knowledge and connects the participants with job interview opportunities in the cloud or IT with local employers.