Veerangana Durgavati Tiger Reserve : Protected Habitat For Big Cats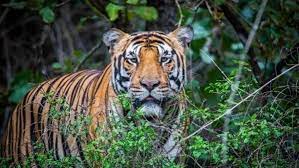 Veerangana Durgavati Tiger Reserve' became Madhya Pradesh's 7th protected habitat for big cats.
Madhya Pradesh, known as the "tiger state" of India due to its substantial tiger population, has officially designated a new protected area for these magnificent creatures called the 'Veerangana Durgavati Tiger Reserve.'
This newly established reserve becomes the seventh tiger reserve in the state.
Madhya Pradesh has consistently held the title of the "tiger state," with its tiger population increasing from 526 in 2018 to 785 in the 2022 census.
The Veerangana Durgavati Tiger Reserve incorporates the previously recognized eco-sensitive zone of Nauradehi and Veerangana Durgavati sanctuaries, along with surrounding forest areas, into the buffer zone.
It will encompass areas within the Nauradehi Wildlife Sanctuary and Durgavati Wildlife Sanctuary.
A green corridor linking Panna Tiger Reserve (PTR) with Durgavati will be developed for the natural movement of the tiger to the new reserve.