26th National Youth Festival: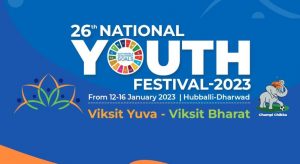 Prime Minister of India will inaugurate the 26th National Youth Festival in Hubballi, Karnataka on 12 January 2023.
The National Youth Festival is being held on National Youth Day, which is celebrated on the birth anniversary of Swami Vivekananda, to honour and cherish his ideals, teachings, and contributions.
Since 1985, the Indian Government is celebrating the birthday of Swami Vivekananda as National Youth Day.
Key facts about National Youth Festival 2023
Theme of the festival 2023: Viksit Yuva Viksit Bharat.
Adventure sports activities like scuba diving are included. Exhibitions of traditional sports like Kalaripayatu (Kerala), Silambam (Tamil Nadu), Gatka (Punjab), and Mallakhamb (Maharashtra) are being organized.
Competitive cultural events like folk dance and folk song are organized where troupes from different states participate.
Interesting non-competitive events include the social development fair 'Yuva Kriti'. 'Adventure Festival', 'Suvichar', 'Young artists camp' among others.
Many events in the festival will be live-streamed across the nation so that crores of young people can also be engaged with the entire festival.
This year the festival is being celebrated as Green Youth Festival where only reusable cutlery, napkins etc are being used.