Unified Registration Portal For GOBARdhan Scheme: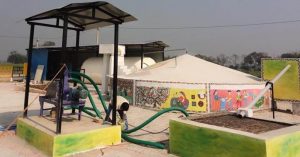 The Department of Drinking Water and Sanitation has introduced a Unified Registration Portal for GOBARdhan recently.
Unified Registration Portal for GOBARdhan launched in 2023.
Ministry: Ministry of Jal Shakti.
Objective is to streamline the registration of Compressed Bio-Gas and biogas plants nationwide.
The portal is gobardhan.co.in
This portal acts as a data repository for different activities of Gobardhan.
It enables monitoring of the progress of the Programme.
It provides real-time tracking, ensuring transparency & and social accountability of the scheme.
According to the guidelines, Market Development Assistance of 1500 rupees per metric tonne will be granted for the sale of Fermented Organic Manure or Liquid Fermented Organic Manure, or phosphate-rich organic Manure produced at biogas and compressed biogas plants under the GOBARdhan initiative.
Anyone who operates or intends to set up a biogas/ CBG/ Bio CNG plant in India can obtain a registration number by registering in this unified registration portal.
The registration number is required to avail of benefits/ support from other Ministries/ Departments.
The GOBARdhan initiative will get a boost as these new guidelines will turbocharge the uptake of organic fertilizer produced from the plants.