Veerangana Rani Durgavati Gaurav Yatra: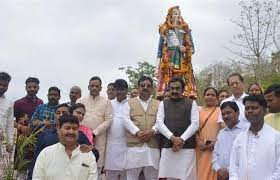 Home Minister Amit Shah and PM Narendra Modi will attend the six-day "Veerangana Rani Durgavati Gaurav Yatra" (to honour 16th-century Gondwana kingdom queen Rani Durgavati) in Madhya Pradesh
Rani Durgavati (1524 – 1564) was the ruling Queen of Gondwana from 1550 until 1564.
She is chiefly remembered for defending her kingdom against the Mughal Empire.
She strengthened the alliance between the Chandel and Gond dynasties
Assumed leadership of the Gond kingdom around 1550 after her husband's passing.
Defeated Bajbahadur, who took control of the Malwa province in 1556
Direct interaction between Rani Durgavati's realm and the Mughal Empire. Abdul Majid Khan, a Mughal subedar, invaded Rani Durgavati's realm with Akbar's approval
She defended her realm from the Mughal army, and set up camp in Narrai valley. She refused to leave the battlefield and killed herself with a dagger
Legacy and Honours:

Renamed the University of Jabalpur as Rani Durgavati Vishwavidyalaya;
Commemorated with a postal stamp by the Indian government;
Durgavati Express, a train, and ICGS Rani Durgavati, an Inshore Patrol Vessel, named after her;
She is hailed as a patriotic ruler and defender of culture, becoming a symbol of pride and honour.