Dhanu Yatra: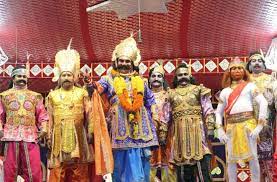 The 'Dhanu Yatra' festival, considered to be the world's largest open-air theatre, has commenced recently in the Western Odisha town of Bargarh.
Dhanu Yatra: The plays in the festival start with the dethroning of Emperor Ugrasen of Mathura by angry Kansa over the marriage of his sister Devaki with Vasudev.
The festival will conclude with the death of demon king Kansa and the restoration of the throne to Ugrasen
With the commencement of the festival, Bargarh becomes King Kansa's Mathura, and Amapali, located about eight km away, becomes Gopapura, where Lord Krishna is said to have spent his childhood.
The Jeera River which flows between the two places becomes the Yamuna River.