Financial Literacy Week 2023: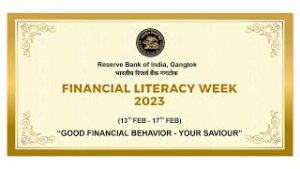 Financial Literacy Week is celebrated between February 13 and February 17.
The celebrations are organized by the Reserve Bank of India.
RBI will conduct a mass media campaign to spread financial awareness during the week.
The week is celebrated by the central bank since 2016.
The main objective of the week is financial education.
Theme of Financial Literacy Week 2023 : Good Financial Behaviour – Your Saviour
The plan aims to build a financially resilient India.
Also, it will create financial awareness among the public.
This week's celebrations are based on this plan.