Human Development Report 2021-22: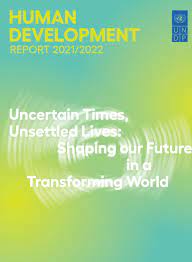 According to the Human Development Report 2021-22, India's rank on the Human Development Index (HDI) has slipped from 130 in 2020 to 132 in 2022, in line with a global fall in HDI scores in the wake of the Covid-19 pandemic.
Ninety percent of countries have registered a reduction in their Human Development Index value in 2020 or 2021, reversing much of the progress toward the Sustainable Development Goals.
A large contributor to the Human Development Index's recent decline is a global drop in life expectancy, down from 72.8 years in 2019 to 71.4 years in 2021.
Indian Perspective:
Human Development Index: India's HDI value stood at 0.633 in 2021, which was lower than the world average of 0.732. In 2020, too, India recorded a decline in its HDI value (0.642) in comparison to the pre-Covid level of 2019 (0.645).
Life expectancy: In 2021, India's life expectancy at birth was recorded at 67.2 years.
Schooling: Expected years of schooling at 11.9 years; mean years of schooling at 6.7 years;
Gross National Income: The gross national income per capita stood at USD 6,590.
Gender Inequality Index: India has been ranked 122 on the Gender Inequality Index.