Water Hyacinth: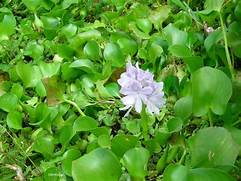 West Bengal has made an outstanding example by utilising Water Hyacinth, an obnoxious aquatic weed plant to develop small-scale cottage industry that is both financially rewarding as well as environmentally friendly in approach.
Water hyacinth, scientifically known as Eichhornia crassipes Mart. (Pontederiaceae), is an aquatic weed common in waterbodies across South Asia, including India.
This is not an indigenous species but was introduced to India during the British colonial rule as an ornamental aquatic plant from South America.
The plant produces beautiful purple flowers that have high aesthetic value.
This simple, floating aquatic plant, unfortunately, is also an obnoxious weed that has been suffocating surface freshwater sources like rivers, rivulets, streams, ponds, dams, lakes and bogs, making the waterbodies unsuitable for commercial fishery, transportation and recreation.
The plant is a prolific vegetable matter-producer and has the ability to choke out any closed waterbody at an astonishing rate.
A plant that is prolific produces a large number of young plants, or fruit.
This cuts off sunlight as well as reduces oxygen level in the water, making it unfit for commercial use.
It is an expensive and labour-intensive process to remove this weed from time to time.
This water hyacinth has become a serious problem plant for the ecosystem.