World Lion Day (August 10):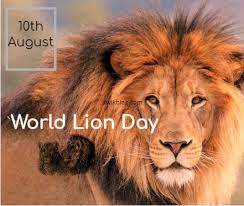 The Prime Minister, Shri Narendra Modi has greeted all those passionate about lion conservation on World Lion Day (August 10).
Lions, listed as "vulnerable" on the International Union for Conservation of Nature's Red List of Threatened Species, have lost a vast majority of their habitat — and resultantly their population — primarily because of conflict with humans, poaching, and trophy hunting.
Seeing this rapid decrease in their population, a group of non-profits and tourism companies created World Lion Day to celebrate the animal and redirect the world's attention towards them. Organisations such as Panthera and National Geographic Society's Big Cats Initiative support World Lion Day.
The Asiatic lions of India are a distant cousin of the much bigger African lions.
After seeing a decline for some time, the Asiatic lion population has increased steadily in Gujarat's Gir forest and the larger Saurashtra protected region.
Their population has gone up from 523 in 2015 to 674 in 2020.