Russian Banks Excluded From SWIFT: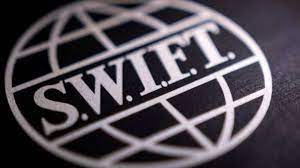 In a move to counter Russia's war over Ukraine, the US and the European Commission issued a joint statement to exclude some Russian banks from the Society for Worldwide Interbank Financial Telecommunication (SWIFT) messaging system.
The intention behind this action is to further isolate Russia from the international financial system.
The move against Russia is only partly implemented for now, with only some Russian banks being covered.
The option of expanding it further to a pan-country ban is something that the US and its allies are holding back as a further escalatory move.
SWIFT provides the trusted messaging platform that enables financial institutions to exchange information about global monetary transactions such as money transfers.
While SWIFT does not actually move money, it operates as a middleman to verify information of transactions by providing secure financial messaging services to more than 11,000 banks in over 200 countries.
Most of the world trade takes place with financial messaging passing through SWIFT.
It was established in 1973 and is based in Belgium.
It is overseen by the central banks from eleven industrial countries: Canada, France, Germany, Italy, Japan, the Netherlands, Sweden, Switzerland, the United Kingdom, and the United States, besides Belgium.
India's financial system has access to the SWIFT.
Prior to SWIFT, the only reliable means of message confirmation for international funds transfer was Telex.
It was discontinued due to a range of issues such as low speed, security concerns, and a free message format.