Qatar, China Gas Supply Deal: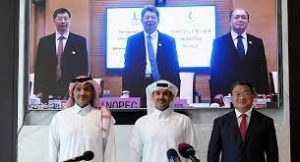 QatarEnergy recently announced a 27-year natural gas supply deal with China.
QatarEnergy will send four million tonnes of liquefied natural gas annually from its new North Field East project to China Petroleum and Chemical Corporation (Sinopec).
The deal "marks the longest gas supply agreement in the history of the LNG industry".
Asian countries led by China, Japan and South Korea are the main market for Qatar's gas, which is increasingly being sought by European countries since Russia's invasion of Ukraine.
North Field is at the centre of Qatar's expansion of its liquefied natural gas production by more than 60% to 126 million tonnes a year by 2027.
North field accounts approximately 10% of the world's known reserves.​
China is the first country to seal a deal for North Field East.