The 1st meeting of the Joint Working Group in the field of Renewable Energy between India and the Kingdom of Bahrain: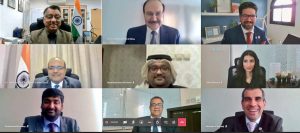 It was held in a virtual format.
An MoU between India and Bahrain was signed in 2018 for promoting bilateral cooperation in the field of Renewable Energy.
Both sides agreed to forge deeper engagement in capacity building and focused cooperation between concerned agencies as well as the private sector of the two countries in this sector, particularly in the field of solar, wind, and clean hydrogen
Bahrain is a sovereign state in the Persian Gulf.
The island nation comprises a small archipelago made up of 40 natural islands and an additional 51 artificial islands, centered around Bahrain Island which makes up around 83 percent of the country's landmass.
The country is situated between the Qatari peninsula and the northeastern coast of Saudi Arabia, to which it is connected by the 25-kilometer King Fahd Causeway.
The capital and largest city are Manama.