What Is Moscow Format?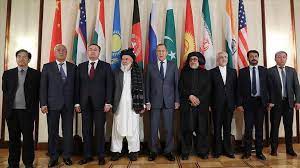 India joined the meeting of the 'Moscow format consultations on Afghanistan' that was in the Russian capital.
The Moscow format is one of the several dialogue platforms on Afghanistan which began before the Taliban takeover of Kabul.
It consists of Russia, China, Pakistan, Iran, Kazakhstan, Tajikistan, Kyrgyzstan, Uzbekistan, Turkmenistan and India.
The key objective of the Moscow format of consultations is to facilitate the national reconciliation process in Afghanistan to establish peace.
During the meeting, the participants discussed issues related to Afghanistan, including the current humanitarian situation and the ongoing efforts of various stakeholders to provide assistance, intra-Afghan talks, formation of an inclusive and representative government.