China-Pakistan Economic Corridor: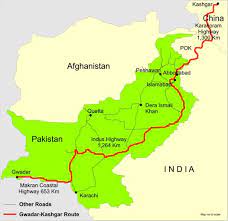 Pakistan has discussed Taliban-led Afghanistan joining the multibillion-dollar China-Pakistan Economic Corridor (CPEC) infrastructure project.
China has proposed construction of the Peshawar-Kabul motorway as an extension of CPEC in Afghanistan.
Taliban takeover of Afghanistan and China emerging as a major challenge in the form of the extension of its ambitious CPEC, has raised India's concerns on economic, political and security fronts.
China-Pakistan Economic Corridor:
The CPEC is a bilateral project between Pakistan and China.
It is intended to promote connectivity across Pakistan with a network of highways, railways, and pipelines accompanied by energy, industrial, and other infrastructure development projects.
It aims to link the Western part of China (Xinjiang province) to the Gwadar Port in Balochistan, Pakistan via Khunjerab Pass in the Northern Parts of Pakistan.
It will pave the way for China to access the Middle East and Africa from Gwadar Port, enabling China to access the Indian Ocean.
CPEC is a part of the Belt and Road Initiative. The BRI, launched in 2013, aims to link Southeast Asia, Central Asia, the Gulf region, Africa and Europe with a network of land and sea routes.
India has been severely critical of the CPEC, as it passes through Pakistan-occupied Kashmir, which is a disputed territory between India and Pakistan.