Smart Wall: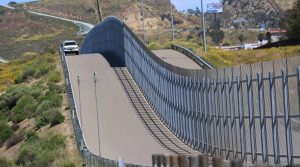 An alternative Smart Wall has been proposed to replace the physical and armed patrolling with advanced surveillance technology at the USA-Mexico border.
Earlier in 2019, the USA declared a national emergency to fund the construction of a border wall along the USA-Mexico Border citing "invasion" of drugs and criminals from Mexico.
About Smart Wall:
It is a collection of discrete technologies that work together to prevent illegal entry, smuggling, and all the various threats posed by a porous border.
It uses drones, scanners, and sensors to create a technological barrier too high to climb over, too wide to go around, and too deep to burrow under.
Using Internet-of-Things (IoT) technologies like in-ground sensors, security cameras, and software solutions, a smart wall could empower border officials with enhanced situational awareness to prevent illicit activity.