Smart India Hackathon: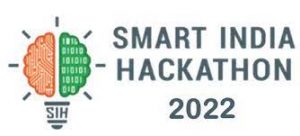 The Prime Minister of India addressed the Grand Finale of Smart India Hackathon 2022 via video conferencing.
Smart India Hackathon (SIH) was started in the year 2017.
Smart India Hackathon is a nationwide initiative to provide students with a platform to solve some of the pressing problems we face in our daily lives, and thus inculcate a culture of product innovation and a mindset of problem-solving.
SIH has been conducted every year since 2017 in two formats, SIH Software and SIH Hardware Editions for higher education students.
The first four editions SIH2017, SIH2018, SIH2019 and SIH2020 proved to be extremely successful in promoting innovation out-of-the-box thinking in young minds, especially engineering students from across India.
Smart India Hackathon is an initiative by the Ministry of Education, All India Council for Technical Education (AICTE), Persistent Systems and Inter Institutional Inclusive Innovation Centre (i4C).
Aim:It aims to inculcate the culture of product innovation, problem-solving and out-of-the-box thinking among students.