Pandit Bhimsen Joshi Jayanti: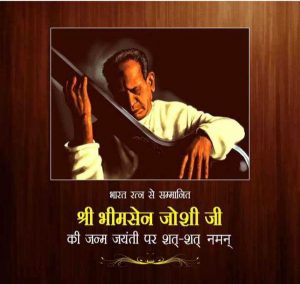 Prime Minister paid homage to Pandit Bhimsen Joshi, the classical music vocalist, on his centenary birth anniversary.
Pandit Bhimsen Joshi was born on February 4, 1922.
He received the Bharat Ratna in 2008.
He is remembered for his famous ragas including Shuddha Kalyan, Miyan Ki Todi, Puriya Dhanashri and Multani etc.
He belonged to the Kirana Gharana.
Kirana Gharana got its name from a small town called Kerana in Uttar Pradesh.
It was founded by Ustad Abdul Karim Khan.
Famous artists such as Abdul Wahid Khan, Suresh Babu Mane, Hira Bai Badodekar, and Roshanara Begum belong to this Gharana.
He belonged to the school of Hindustani classical music.