Pandit Birju Maharaj: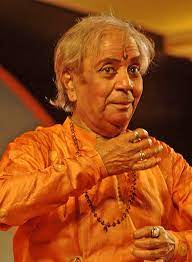 The famous Kathak dancer Birju Maharaj, who took the traditional Indian dance form 'Kathak' to the world stage passed away.
He was one of India's most famous and favorite artists, belonged to the Kalka-Bindadin gharana of Lucknow, a classical Kathak dance form. He was born on February 4, 1938 in Lucknow.
Awards: Padma Vibhushan in 1983, Sangeet Natak Akademi Award and Kalidas Samman.
Kathak is the only form of classical dance wedded to Hindustani or the North Indian music. Both of them have had a parallel growth, each feeding and sustaining the other. (Odissi dance uses Odissi music which is blend of Hindustani and Carnatic).
Kathak is one of the main genres of ancient Indian classical dance and is traditionally regarded to have originated from the travelling bards of North India referred as Kathakars or storytellers.