PM GatiShakti: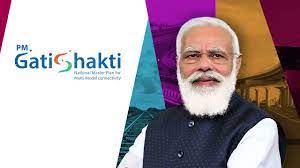 Large-scale absence of coordination and collaboration among agencies has been a major challenge to time bound infrastructure project implementation in India.
Very often these projects have faced time overruns, leading to significant cost escalations.
As per the Ministry of Statistics and Programme Implementation (MoSPI), Government of India, in the beginning of 2021, 1,687 Union Government projects under implementation, valued more than Rs 21.45 lakh crore, had run into cost overrun of nearly 20 percent, largely because of their delays.
The reason for delays include underestimation of original project cost, spiralling land acquisition cost, delays in environment, forest and wildlife clearances and industrial licensing permission, road crossing of pipelines/transmission lines, shifting of utilities, delays in the tie-up of project financing, delays in finalisation of detailed engineering, etc.
In addition, there are bottlenecks at the State Government level such as issues in land acquisition and removal of encroachments, relief and rehabilitation planning and implementation, timely issuance of no objection certificate, necessary power and water supply, and work order related issues.
PM GatiShakti:
Launched in 2020, it is a digital platform that connects 16 ministries — including Roads and Highways, Railways, Shipping, Petroleum and Gas, Power, Telecom, Shipping, and Aviation.
It aims to ensure holistic planning and execution of infrastructure projects.
It aims to boost multimodal connectivity and drive down logistics costs.
PM Gati Shakti will cover the infrastructure projects worth over Rs 500 crore of various Ministries of the Union and State Governments like Bharatmala, Sagarmala, inland waterways, dry/land ports, UDAN (Ude Desh ka Aam Nagarik – subsidies for facilitating air travel), etc.
The portal will offer 200 layers of geospatial data, including on existing infrastructure such as roads, highways, railways, and toll plazas, as well as geographic information about forests, rivers and district boundaries to aid in planning and obtaining clearances.
The portal will also allow various government departments to track, in real time and at one centralised place, the progress of various projects, especially those with multi-sectoral and multi-regional impact.