Wimbledon Title : Carlos Alcaraz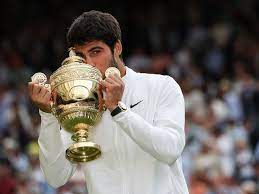 Carlos Alcaraz defeated Novak Djokovic in a thrilling five-set final to win his first Wimbledon title.
Wimbledon is one of the four major tennis tournaments known as Grand Slam events. It is held annually in London, England, and is the oldest tennis tournament in the world.
The other three Grand Slam tournaments are the Australian Open, the French Open, and the US Open.
They feature singles, doubles, and mixed doubles matches, and determine the champions in each category.
Grand Slam refers to the accomplishment of winning all four major championships of Australia, France, Britain (Wimbledon), and the United States in the same calendar season
The result sparks speculation about a potential generational shift in men's tennis.