India-US 2+2 Inter-Sessional Meeting: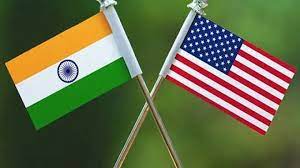 India-US 2+2 Inter-sessional meeting was held in New Delhi where the senior officials vowed to further strengthen the strategic partnership between both nations.
The officials also reviewed the outcomes of the 2+2 Ministerial Dialogue which was held in April 2022.
The India-US 2+2 Inter-sessional meeting was led by senior officials from the Ministry of External Affairs, Ministry of Defence and the US Departments of State and Defence.
This is the sixth India-US 2+2 Intersessional Dialogue.
Through these dialogues, the United States and India will advance an ambitious set of initiatives across the defence partnership ahead of the 2+2 ministerial next year, including in support of information-sharing, logistics, technology, and high-end navy cooperation.
India is the centrepiece of the Joe Biden administration's Indo-Pacific strategy – Indian Foreign and Defence Ministers recently held the '2+2' meeting with their American counterparts.