World Competitiveness Index 2021: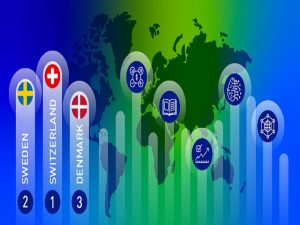 According to the World Competitiveness Yearbook (WCY), India maintained 43rd rank on the annual World Competitiveness Index.
The World Competitiveness Index is a comprehensive annual report and worldwide reference point on the competitiveness of countries.
Published by: WCY was first published in 1989 and is compiled by the Institute for Management Development (IMD).
In 2021, the IMD examined the impact of Covid-19 on economies around the world.
It provides extensive coverage of 64 economies.
Factors: It measures the prosperity and competitiveness of countries by examining four factors (334 competitiveness criteria):

Economic performance
Government efficiency
Business efficiency
Infrastructure

Top Global Performers:
The European countries display regional strength in world competitiveness ranking with Switzerland (1st), Sweden (2nd), Denmark (3rd), the Netherlands (4th).
The top-performing Asian economies are, in order, Singapore (5th), Hong Kong (7th), Taiwan (8th), and China (16th).
Singapore was 1st in the 2020 World Competitiveness Index.
The UAE and the USA remain in the same spots as last year (9th and 10th, respectively).
In Comparison to BRICS Nations: Among BRICS nations, India ranked second (43rd) after China (16th), followed by Russia (45th), Brazil (57th), and South Africa (62nd).
Performance on Four Factors: Among the four indices used, India's ranking in government efficiency increased to 46 from 50 a year ago, while it's ranking in other parameters such as economic performance (37th), business efficiency (32nd), and infrastructure (49) remained the same.
Improvements in Government Efficiency: Mostly due to relatively stable public finances. Despite difficulties brought by the pandemic, in 2020, the government deficit stayed at 7%. The Government also provided support and subsidies to private companies.