Burkina Faso: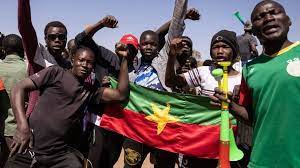 Burkina Faso's army announced that it had ousted President Roch Kabore, suspended the constitution, dissolved the government and the national assembly, and closed the country's borders.
Army has toppled governments over the past 18 months in Mali and Guinea.
The military also took over in Chad last year (2021) after President Idriss Deby died fighting rebels on the battlefield in the country's north.
Burkina Faso:
A former French colony, Burkina Faso has suffered chronic instability since gaining independence in 1960, including several coups.
The country's name, meaning "land of the honest men", was picked by revolutionary military officer Thomas Sankara who took power in 1983. He was toppled and killed in 1987.
Since 2015, the country has been fighting an Islamist insurgency that spilled over from neighbouring Mali. This has fuelled anger in the military and damaged the once important tourist industry.
Landlocked Burkina Faso, one of West Africa's poorest countries despite being a gold producer, has experienced numerous coups since independence from France in 1960.
Islamist militants control swathes of Burkina Faso's territory and have forced residents in some areas to abide by their harsh version of Islamic law, while the military's struggle to quell the insurgency has drained scarce national resources.
Kabore had faced waves of protests in recent months amid frustration over killings of civilians and soldiers by militants, some of whom have links to Islamic State and al Qaeda.
The discontent escalated in November 2021, when 53 people, mainly members of the security forces, were killed by suspected jihadists.