World Economic Situation And Prospectus 2023 Report: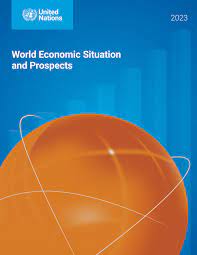 UNDESA have produced this report.
Key observations:
The world economy was much affected by COVID-19 lockdowns and the war in Ukraine in 2022
World output growth will decelerate to 1.9% in 2023 (from 3% in 2022)
The economic outlook has "significantly deteriorated due to high food and energy prices, monetary tightening and fiscal vulnerabilities" with average GDP growth projected to moderate to 4.8% in 2023 from 5.6% in 2022
Economic growth in India is projected to moderate in 2023, with higher interest rates weighing on investment and slower global growth weakening exports
It recommends Reprioritization of public expenditures esp. in education, health and digital infrastructure; more social protection.
About UNDESA:
The United Nations Department of Economic and Social Affairs (UN DESA) (est. 1948; HQ: New York) is part of the UN Secretariat and assists countries around the world in agenda-setting and decision-making with the goal of meeting their economic, social and environmental challenges (including SDG Goals)
About UNCTAD:
The United Nations Conference on Trade and Development (est. 1964; HQ: Geneva, Switzerland) is an intergovernmental organization within the United Nations Secretariat that promotes the interests of developing countries in world trade.