UN World Social Report 2023: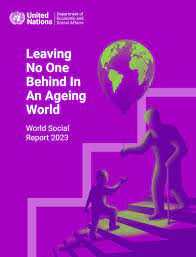 According to the United Nations (UN) World Social Report 2023: Leaving no one behind in an ageing world, the number of persons aged 65 years or older worldwide is expected to double over the next three decades.
Highlights of the Report:
The elderly population will reach 1.6 billion in 2050, accounting for more than 16% of the global population.
North Africa, West Asia and sub-Saharan Africa are expected to experience the fastest growth in the number of older people over the next three decades.
Also, Europe and North America combined now have the highest share of older persons.
This demographic shift brings into question current arrangements of old-age support in young and old countries.
Gender inequality also persists into old age.
Economically, women's lower levels of formal labour market participation, shorter working lives and lower wages during working years lead to more economic insecurity in later life.