World Food India 2023: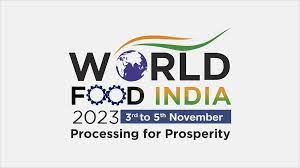 In celebration of the International Year of Millets in 2023, India's Ministry of Food Processing Industries will be organizing the second edition of 'World Food India 2023', which aims to showcase India's rich food culture and attract global investments in the diverse food processing sector.
The event will take place from 3rd-5th November 2023 in New Delhi.
World Food India 2023 is a gateway to the Indian food economy, facilitating partnerships between Indian and foreign investors.
It will be a one-of-a-kind gathering of manufacturers, producers, food processors, investors, policymakers, and organisations from across the global food ecosystem.
It is a promising platform to showcase, connect and collaborate in retail, processing, technology transfer, manufacturing, and cold chain logistics, along the global food value chain.
It will showcase investment opportunities in backward linkages, processing equipment, research and development, cold chain storage, start-ups, logistics, and retail chains.