World Heritage Nomination 2022-2023: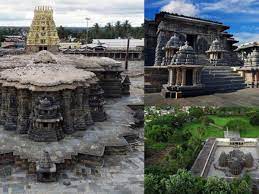 The Union Ministry of Culture has nominated Sacred Ensembles of the Hoysalas temples for consideration as a World Heritage site for the year 2022-2023.
The sacred ensembles of the Hoysalas, built in the 12th-13th centuries and represented by the three components of Belur, Halebid and Somnathapura in Karnataka.
All these three Hoysala temples are protected monuments of the Archaeological Survey of India (ASI).
The 'Sacred Ensembles of the Hoysala' have been on UNESCO's Tentative list since 15th April, 2014 and stand testimony to the rich historical and cultural heritage of India.
Earlier, the UNESCO's World Heritage Centre (WHC) had agreed to publish Hindi descriptions of India's UNESCO World Heritage Sites on the WHC website.
Chennakeshava Temple, Belur:
Construction of the temple commenced in 1117 AD and took 103 years to complete.
The temple is dedicated to Lord Vishnu known as Chennakesava, which means beautiful (chenna) Vishnu (Keshava).
The richly sculptured exterior of the temple narrates scenes from the life of Vishnu and his reincarnations and the epics, Ramayana, and Mahabharata.
However, some of the representations of Shiva are also included.
Hoysaleshwara Temple, Halebidu:
The Hoysaleshwara temple at Halebidu is the most exemplary architectural ensemble of the Hoysalas extant today.
Built in 1121CE during the reign of the Hoysala King, Vishnuvardhana Hoysaleshwara.
The temple, dedicated to Shiva, was sponsored and built by wealthy citizens and merchants of Dorasamudra.
The temple is most well-known for the more than 240 wall sculptures that run all along the outer wall.
Halebid has a walled complex containing three Jaina basadi (temples) of the Hoysala period as well as a stepped well.
Keshava Temple, Somanathapura:
The Keshava temple at Somanathapura is another magnificent Hoysala monument, perhaps the last.
This is a breathtakingly beautiful Trikuta Temple dedicated to Lord Krishna in three forms – Janardhana, Keshava and Venugopala.
Unfortunately, the main Keshava idol is missing, and the Janardhana and Venugopala idols are damaged.