Tamil Nadu's First Tiger Rewilding Program: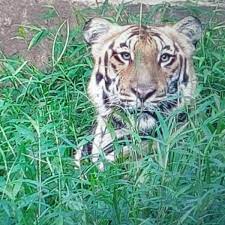 A committee assessed the progress of Tamil Nadu's first tiger rewilding program in the Anamalai Tiger Reserve.
The tiger is cared for by dedicated Forest Department staff who minimize contact and monitor the animal through cameras.
Anamalai Tiger Reserve is carved out of the Tamil Nadu portion of the Anamalais and lies South of the Palakkad gap in the Western Ghats
Surrounded by various wildlife reserves and forests such as Parambikulum Tiger Reserve on the East, Chinnar Wildlife Sanctuary and Eravikulum National Park on the South Western side
Ranges within the reserve include Amaravathi, Udumalpet, Pollachi, Ulandy, Valparai, and Manamboli
Flora Encompasses a variety of ecosystems, including wet evergreen forest, semi-evergreen forest, montane shola-grassland, moist deciduous, dry deciduous, thorn forests, and marshes.
Notable mammal species include the Asiatic elephant, Sambar, spotted deer, Barking deer, Mouse deer, Gaur, Nilgiri tahr, and Tigers.