World Heritage Day 2022: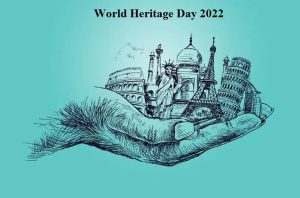 Every year, 18th April is celebrated as International Day for Monuments and Sites, also known as 'World Heritage Day'.
The theme for World Heritage Day 2022 is "Heritage and Climate".
World Heritage Day:
The International Council on Monuments and Sites (ICOMOS) established the day in 1982 and the United Nations Educational, Scientific and Cultural Organization (UNESCO) approved it in 1983.
The aim of the day is to create awareness about Heritage among communities.
A World Heritage Site is a place that is listed by UNESCO for its special cultural or physical significance.
The list of World Heritage Sites is maintained by the international 'World Heritage Programme', administered by the UNESCO World Heritage Committee.
This is embodied in an international treaty called the Convention concerning the Protection of the World Cultural and Natural Heritage, adopted by UNESCO in 1972.
India is home to a total of 3691 monuments and sites. Of these 40 are designated as UNESCO World Heritage Sites.
Including places like the Taj Mahal, Ajanta Caves and Ellora Caves.
World Heritage Sites also include natural sites like the Kaziranga National Park in Assam.
Harappan city of Dholavira in Gujarat as India's 40th world heritage site.
Ramappa Temple (Telangana) was India's 39th World Heritage Site.
Khangchendzonga National Park, Sikkim has been inscribed as India's first and the only "Mixed World Heritage Site".
In 2022, the Union Ministry of Culture nominated Sacred Ensembles of the Hoysalas temples for consideration as a World Heritage site for the year 2022-2023.